HitBTC is a trusted exchange recommended for users who are looking to trade cryptocurrencies at low fees and high volumes. Users are able to trade up to 800 different cryptocurrencies on a intuitive and easy to use trading platform. We recommend this exchange to average and advance traders.
Review Summary: 
HitBTC lists 300+ digital coins and 800+ pairs.
HitBTC fees are low, including HitBTC withdrawal fees.
The HitBTC exchange has a reliable support team and a simple trading account.
It has one of the largest trading volumes in the industry.
It offers a web wallet with average security.
HitBTC Overview:
HitBTC is based in Hong Kong and offers its services to traders and investors from across the globe. The project started with a $6 million raised in venture capital in 2013 in Hong Kong.
The HitBTC trading platform is available in English, Korean, Chinese, Portuguese, and Spanish.Their services are not available in the following countries:
Afghanistan
The Democratic Republic of the Congo
The Central African Republic
Cuba
Iran
Iraq
North Korea
Lebanon
Liberia
Libya
Nigeria
Somalia
South Sudan
Sudan
Syria
The U.S.
Trading Experience
HitBTC features cryptocurrency trading, APIs, and a demo account for new traders. Users can trade over 800 different cryptocurrencies on HitBTC at low fees. It is possible to connect trading bots to HitBTC via their available APIs. The HitBTC demo account mirrors the real cryptocurrency market conditions.
HitBTC's trading platform is straightforward and easy to use platform for traders at all levels. It acts as a third-party middleman between buyers and sellers. They offer access to an online HitBTC wallet. If you're planning to hold your coins for the long term, it is best to choose a private Bitcoin wallet. HitBTC is a top choice for day trading. It has many digital currencies in its portfolio and a competitive fee structure.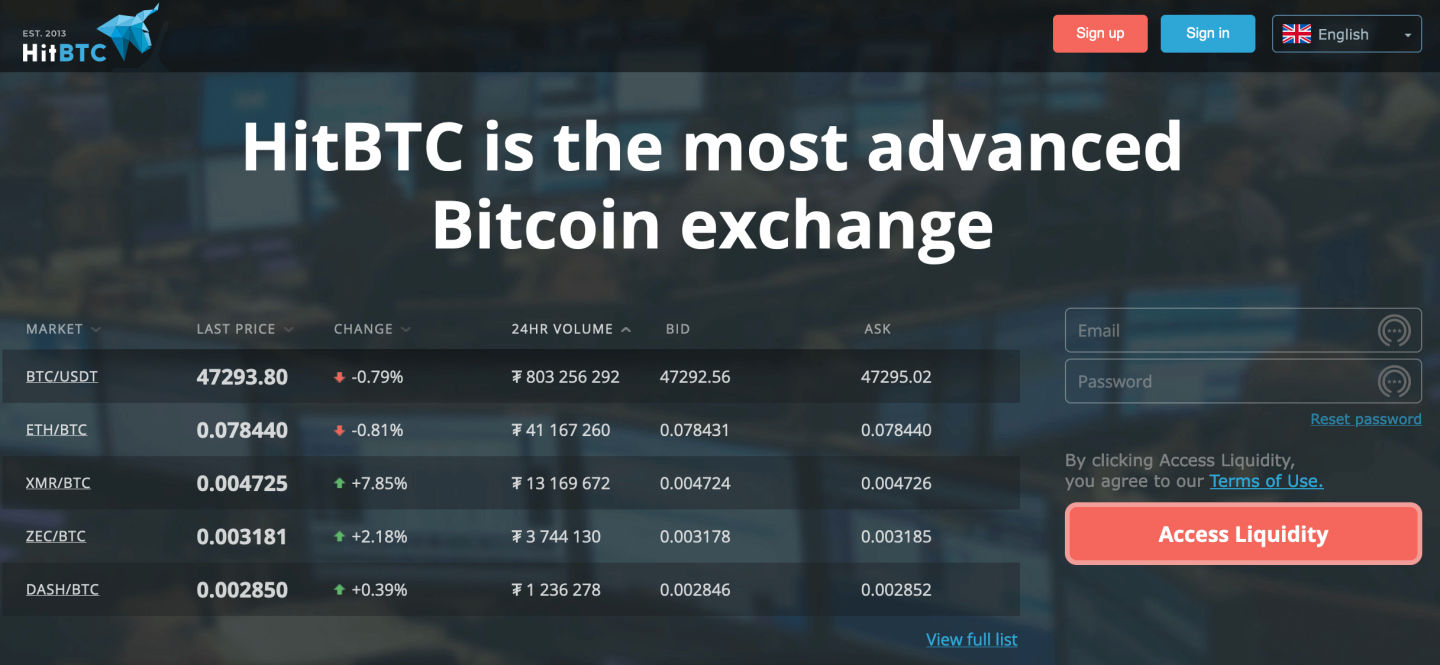 Cryptocurrencies Available 
HitBTC is a top exchange for Bitcoin trading. It offers a comprehensive crypto portfolio. HitBTC offers popular assets, including Litecoin and Ethereum. Other coins available with HitBTC include:
EOS
XRP
TRON
Ethereum Classic
Bitcoin Cash
Stellar
NEO
Cardano
Monero
Zcash
Dash
Ontology
Qtum
Bitcoin S.V.
Dogecoin
Fees 
The main advantage of using the HitBTC platform is its low fee structure. It has no commission for credit/debit card transactions. The international bank transfer is $9, while the U.K. bank transfer costs £5. HitBTC fees are one of the strengths of this crypto to crypto exchange.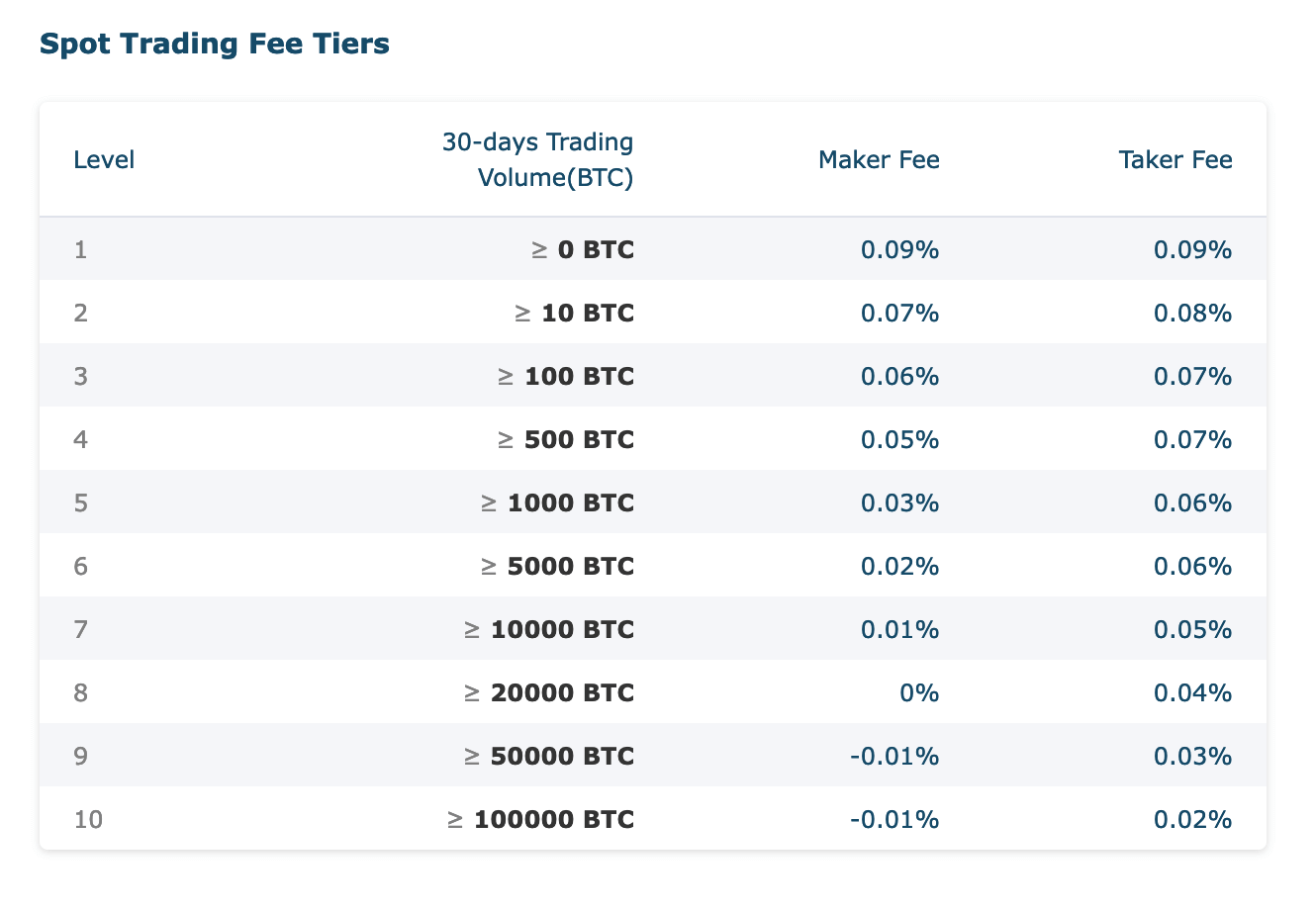 HitBTC has an interesting fee structure. All transactions have a 0.01% trading fee regardless of the trading volume. HitBTC trading fees are attractive. HitBTC offers an incentive program for market makers. It has a discount of 0.01% for all account holders who provide the exchange liquidities. Our HitBTC review shows its trading fees are average.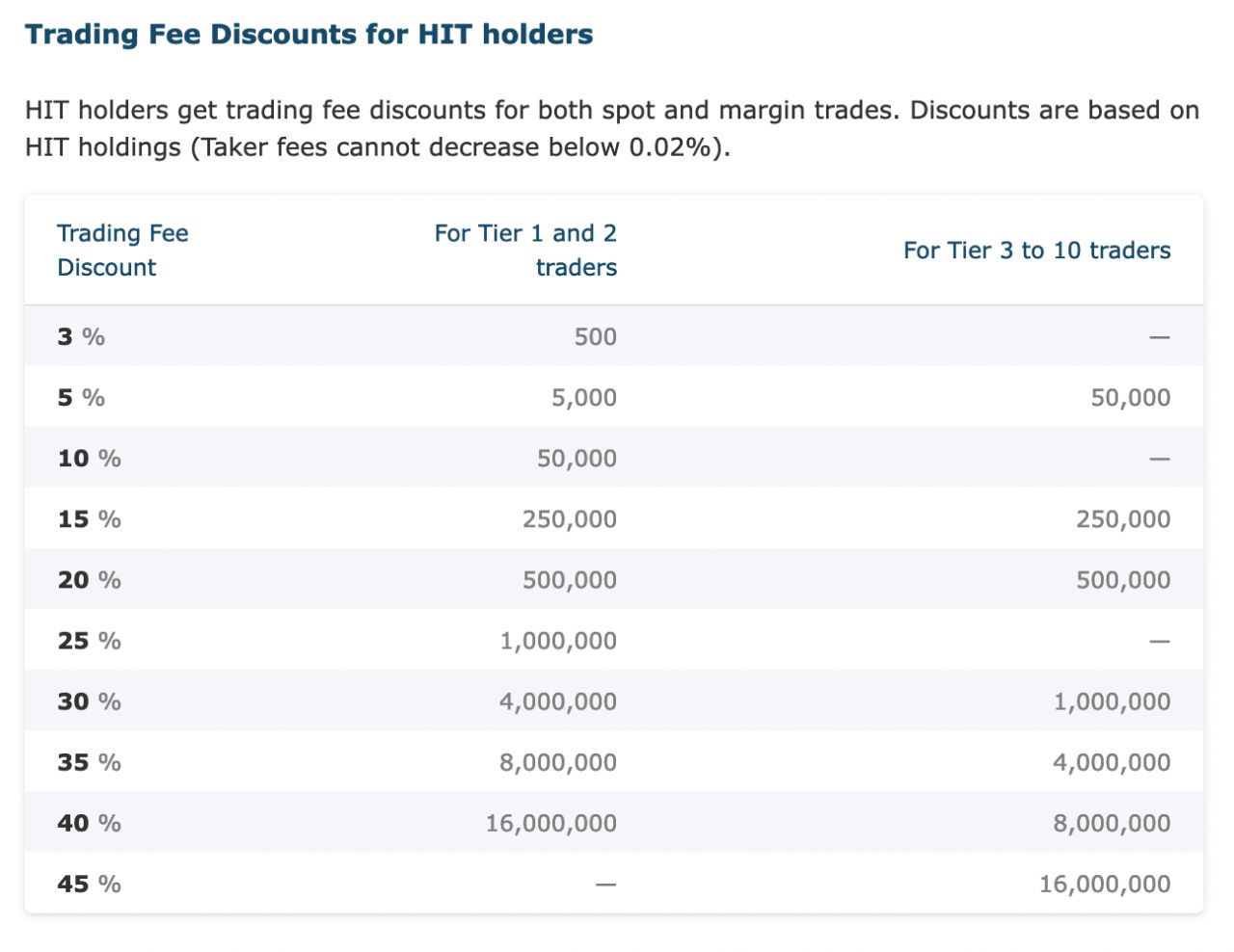 Regulation & Reputation 
HitBTC doesn't have a license from a regulatory body. It follows some regulations concerning anti-money laundering laws. Our HitBTC review reveals it offers helpful security features including:
Two-factor authentication (2FA) when you log in
Fiat currency users must identify themselves
Email confirmation when logging in from a new I.P. address
Whitelist your withdrawal addresses
HitBTC never reported any hacks. It is best to choose a trustworthy exchange for trading digital coins. Check our in-depth reviews to learn more about crypto exchanges and regulations.
Account Opening 
Account opening at HitBTC is simple. Investing in digital coins is possible up to your HitBTC account limits. To open a new account with HitBTC, follow the steps below:
Access HitBTC website and click on Sign up.
Enter an email address and password.
Complete standard verification for your phone number.
Submit personal information.
Verify your account.
Add a payment method and start trading.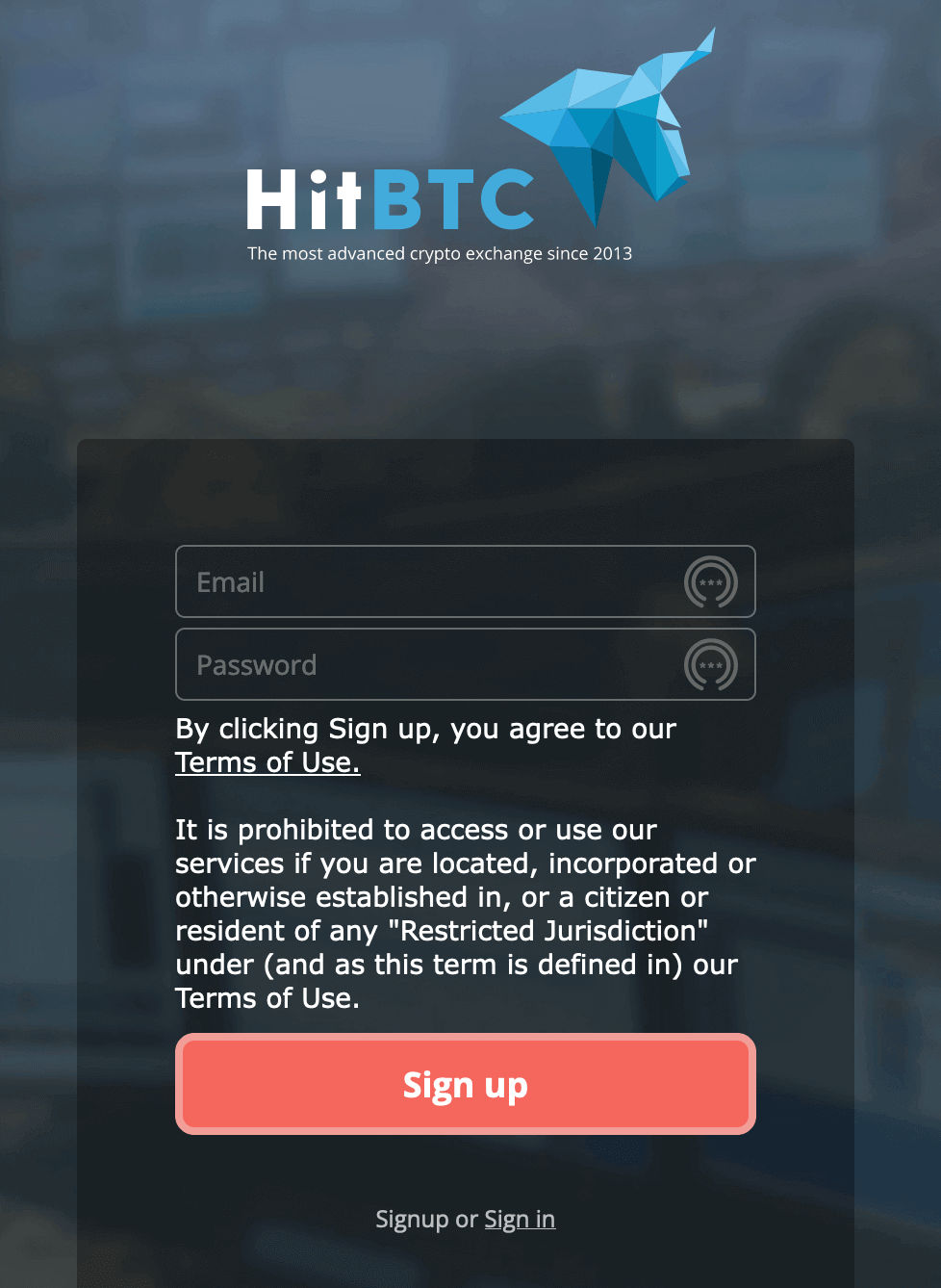 Customer Support 
Customer support is the main criteria we review. Most users complain about HitBTC's customer service team. All clients receive access to an online contact form. It doesn't offer live chat or phone support. Our HitBTC review indicates HitBTC support could be improved.
HitBTC Vs. Other Cryptocurrency Companies
HitBTC reviews show this is a simple Bitcoin exchange available in many countries. It offers a good selection of digital assets. Its main competitor is Coinbase. Crypto traders use multiple exchanges and assets to set up a reliable crypto portfolio.
Coinbase
Coinbase is the direct competitor of HitBTC. Both offer useful services, but there are key differences:
Coinbase is a centralized exchange with an excellent reputation.
Coinbase offers staking rewards at different interest rates. HitBTC has a standard reward fee for market makers.
Coinbase is a transparent exchange with a competitive fee structure.
All exchanges have strengths and weaknesses depending on your trading needs. Coinbase is a top choice for Bitcoin trading. It has a versatile portfolio with an average fee structure. Check our in-depth reviews for more information on the services available at Coinbase.
Coinmama
Coinmama is a top crypto exchange with an excellent reputation. It offers access to reliable safety measures. Coinmama is a top provider of Bitcoin trading services. It is one of HitBTC's competitors, but there are some key differences between the two:
Coinmama is a beginner-friendly exchange with secure platforms.
It has a fast account verification and easy sign-up forms.
It is a global exchange with different account tiers.
Both Coinmama and HitBTC have advantages and disadvantages. Coinmama is a trustworthy global exchange. It has an impressive portfolio and secure platforms. Read our in-depth reviews to learn more about the services available at Coinmama.
Summary 
HitBTC is a useful Bitcoin exchange, but it doesn't have a license from a regulatory body. It has low trading fees and some rewards. We recommend you research cryptocurrency exchanges before choosing one. Our in-depth reviews offer more information on how to identify a trustworthy exchange.
FAQ
Is HitBTC Safe And Legit?
HitBTC has some useful security features. It hasn't reported any hacks recently. HitBTC encourages account holders to follow the recommended safety measures. Digital currency trading is risky. Our HitBTC review shares insights on HitBTC security measures. Read our in-depth reviews to learn more about crypto exchanges and safety.
Should I Buy Bitcoin?
Bitcoin is a popular digital coin with traders at all levels. Before investing in online assets, you should learn more about crypto trading. Our HitBTC review shows it is a good crypto exchange for Bitcoin trading. Check our in-depth reviews for more insights on top cryptocurrencies and reliable strategies.
How Much Bitcoin Should I Buy With My First Transaction?
It varies based on your trading experience. Our recommendation is to follow the minimum deposit requirements. After testing the trading platform, you'll know how to increase your capital investment.
How Many Coins Does HitBTC list?
HitBTC has 301 different cryptocurrencies. It offers popular assets, including Bitcoin, Litecoin, Ethereum, and Dogecoin.
Which Exchange Is The Main Competitor Of HitBTC?
The main competitor of HitBTC is Coinbase. Coinbase offers trustworthy services and industry-leading safety measures. It has a minimum trade of $10. Read our in-depth reviews to learn more about the services available at Coinbase.
Related:
Crypto.com Review
Binance US Review
Kraken Review
Coinbase UAE Review
BitOasis Review
Cex.io Review
Bittrex Review
Bitfinex Review
BitPanda Review
Bitstamp Review
Gemini Review
Coinmama Review
HitBTC Review
Kucoin Review
Huobi Review
Uniswap Review
Gold Age Review
Liberty Reserve Review
CoinSpot Review
Coinjar Review
Coinfloor Review
CoinCorner Review
FTX Review
Bitso Review
BitMex Review
BitFlyer Review
BitClout Review
Bittylicious Review
Poloniex Review
Shapeshift Review
Coin Nerds Review
CoinSwitch Review
Cryptopia Review
Changelly Review
CoinMena Review
Luno Review
Mercatox Review
Okex Review
Paxful Review
VirWox Review