Uniswap is a decentralized exchange with a long track record in the industry. It uses the Uniswap protocol to enable automated transactions. Uniswap facilitates transactions between crypto tokens on the Ethereum blockchain with smart contracts. It is a good fit for active traders. 
Review Summary: 
Uniswap is a reliable decentralized exchange with versatile services.
It lets users swap all ERC-20 tokens and offers high-interest returns for liquidities.
It has higher fees, gas fees and transactions costs than competitor decentralized exchanges.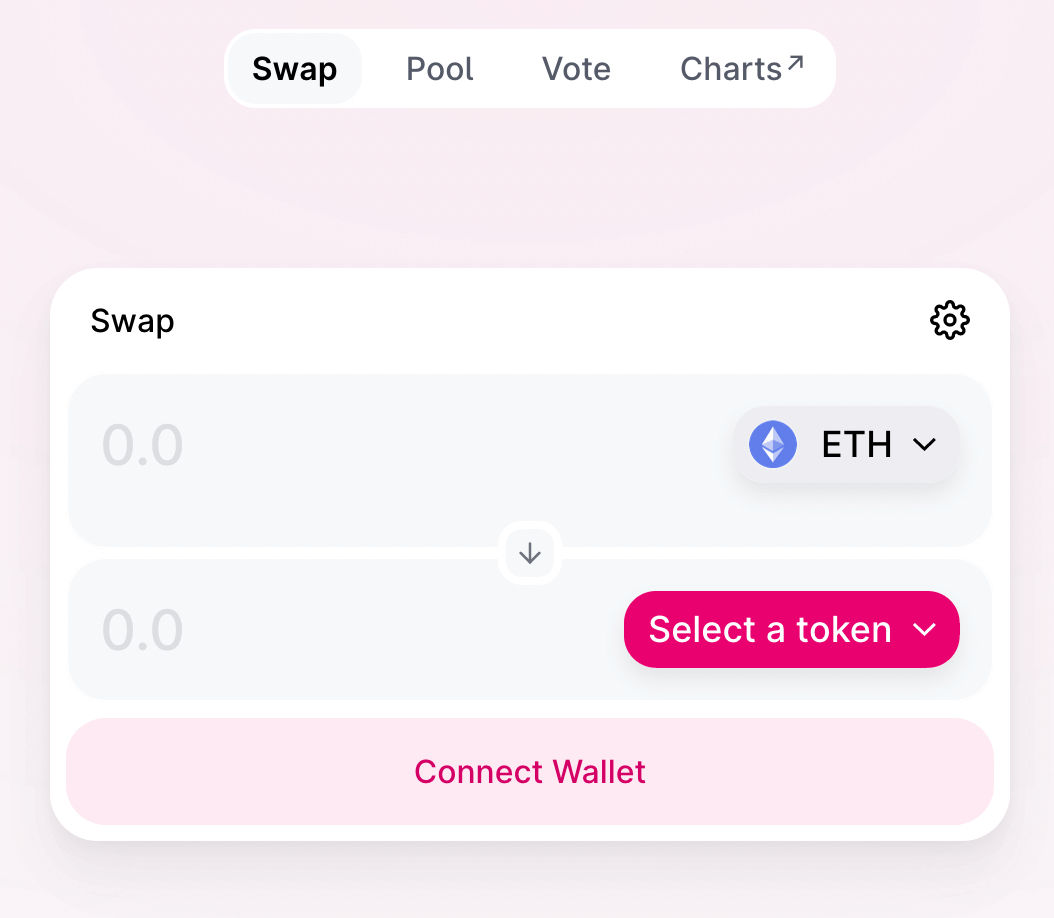 Uniswap Overview:
Uniswap isn't a market-maker provider. It uses a liquidity pool to create more efficient markets. Each trade removes a specific quantity of tokens from the pool. This changes the prices and lets users swap many tokens. The gas fees determine the costs of all transactions.
The decentralized finance protocol used to exchange crypto and tokens is available in blockchain networks. Uniswap runs on open-source, distributed software. This means there is no central organization responsible for Uniswap. It is different than centralized exchanges like Coinbase and Binance.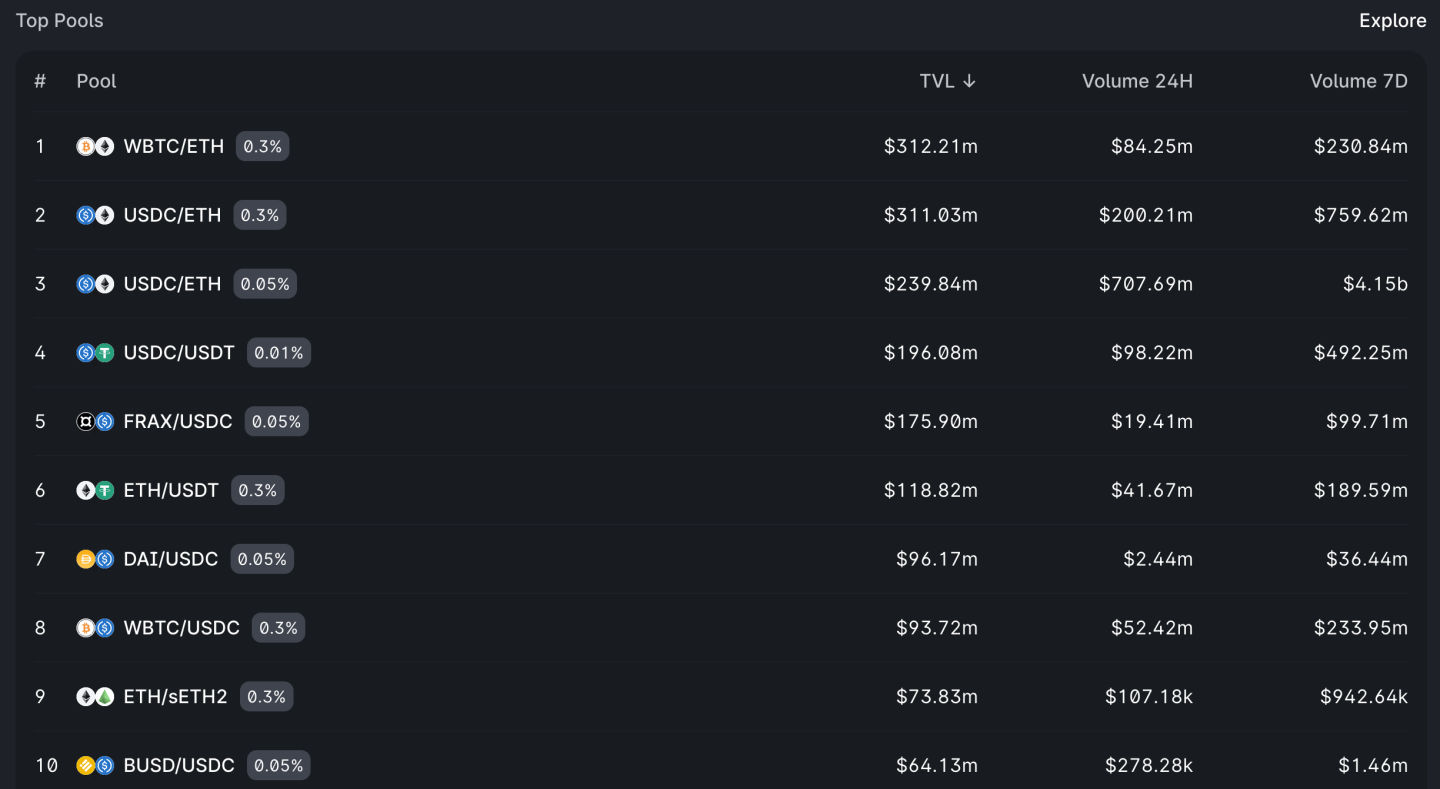 Trading Experience
The main feature of the Uniswap Exchange is its privacy. You trade digital assets without registering or participating in the KYC process. But the lack of identity verification might pose some safety risks. Traders easily swap any two Ethereum assets. Read our in-depth reviews to learn more about exchanges and safety measures.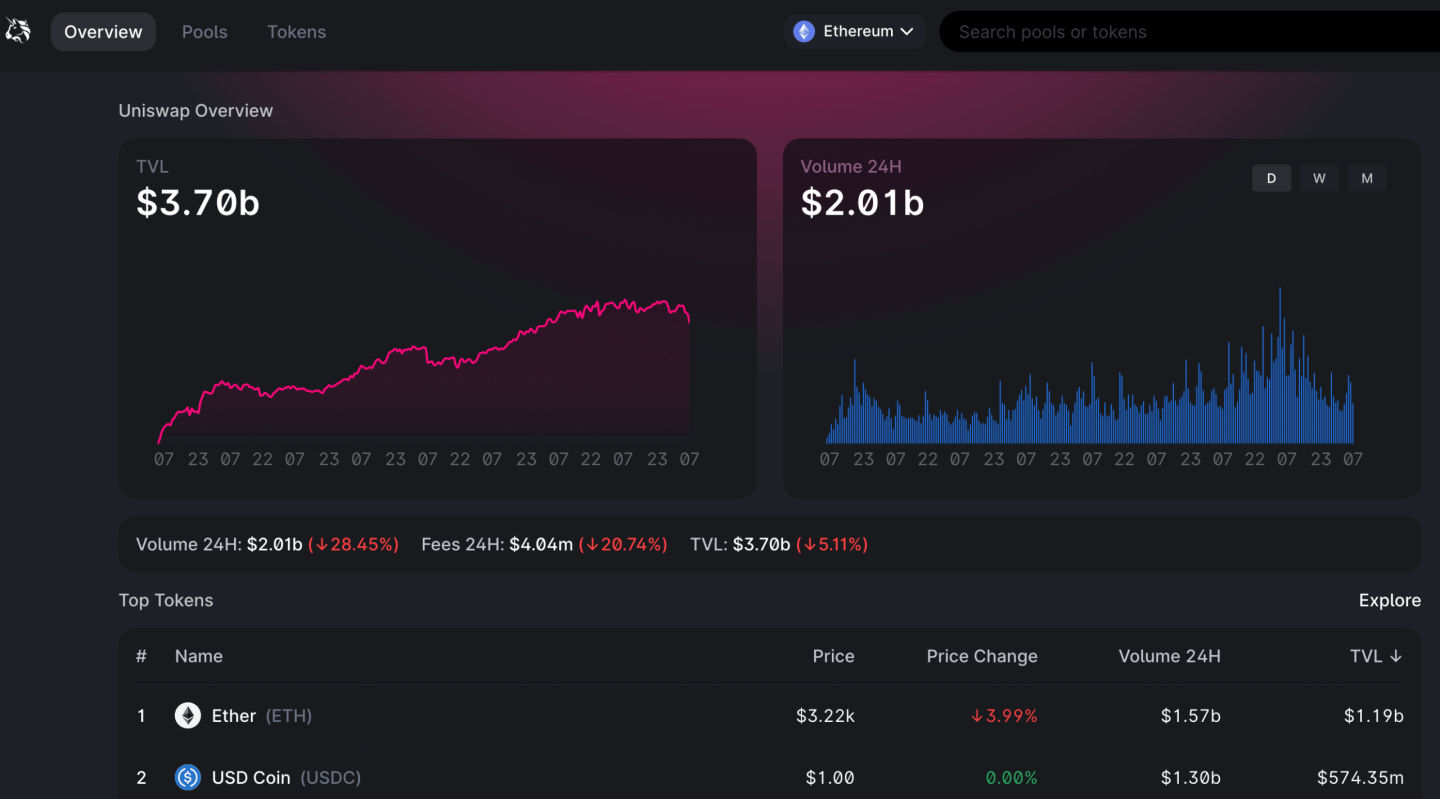 Cryptocurrencies Available
The Uniswap exchange supports all ERC-20 compatible assets. Some of the main digital assets available with this exchange are:
Ethereum (ETH)
Basic Attention Token (BAT)
Enjin Coin (ENJ)
Chainlink (LINK)
Yearn.finance (YFI)
Tether (USDT)
USD Coin (USDC)
Dai (DAI)
Synthetix (SNX)
Uniswap (UNI)
Wrapped Ether (WETH)
Wrapped Bitcoin (WBTC)
The Uniswap native token, UNI, is attractive. Uniswap community members hold 60% of the distributed UNI tokens. UNI is available in the following liquidity pools:
ETH/USDT
ETH/USDC
ETH/DAI
ETH/WBTC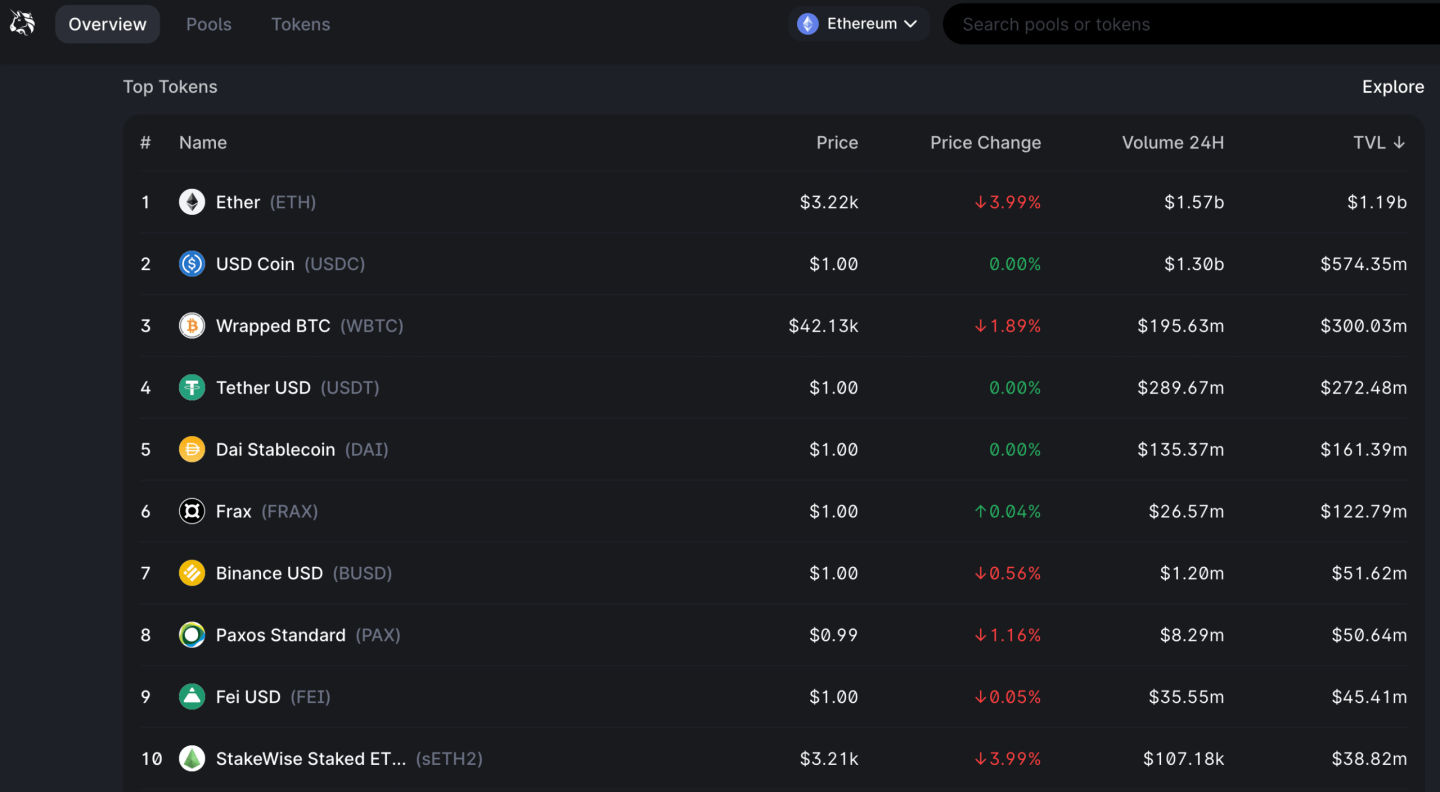 Fees
This exchange has straightforward trading fees. Uniswap has a 0.3% fee for all swaps. Liquidity providers receive this fee. It works as an incentive for offering assets to the protocol. Uniswap has a transaction fee for sending a request on the Ethereum blockchain. This fee varies depending on network congestion. The transaction fees for swaps are lower than for interacting with liquidity pools. Check our in-depth reviews to learn more about crypto exchanges and trading fees.
Regulation & Reputation
The Uniswap Exchange is safe and trustworthy. It operates as a decentralized exchange created on Ethereum. It has the same safety measures as the Ethereum blockchain. The main problems with Uniswap Exchange are user errors. The nature of the Ethereum blockchain prohibits the correction of errors and focuses on prevention. The code and smart contracts receive in-depth audits to prevent errors.
Customer Support
Uniswap offers a reliable help center on its main website. It provides access to community groups, including the Uniswap Labs on Twitter. Uniswap provides an email address to reach out to. But the response times are below average.
Summary
Uniswap is a popular decentralized exchange with straightforward services. It is a top choice for traders who want access to ERC-20 compatible assets and liquidity tokens. We recommend you read more about decentralized exchanges in our in-depth reviews.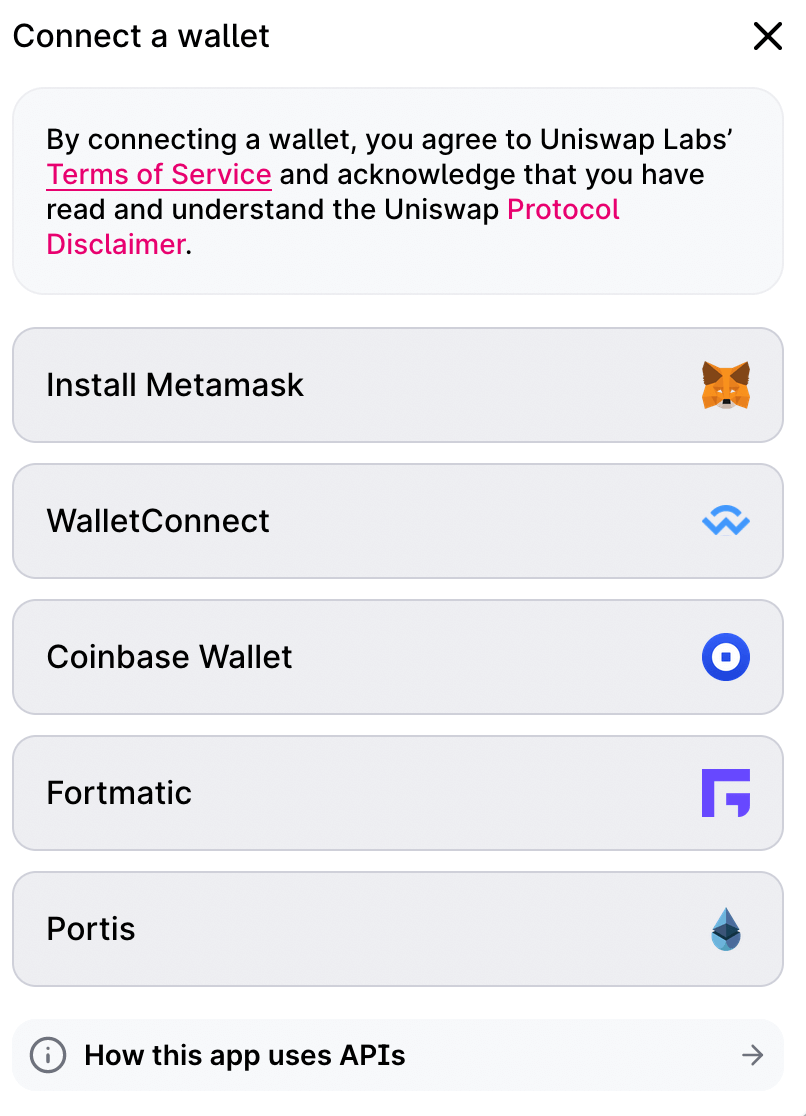 FAQ
What Is A Centralized Cryptocurrency Exchange?
A centralized exchange is a private company with access to platforms to invest in digital coins. These exchanges need registrations, known as the Know Your Client Rule.
What Is A Decentralized Cryptocurrency Exchange?
A decentralized exchange does not have a central point of control. It functions as a server with each computer within the network spread out in different countries. If one computer stops working, it doesn't interfere with the network's activity. 
Decentralized exchanges don't have licenses. These providers don't follow the rules of any regulatory body. If you choose to use a decentralized exchange, you should understand the risks. Read our in-depth reviews to learn more about crypto exchanges and safety.
Is Uniswap Open Source?
Yes. The Uniswap Exchange is an open-source project. Its code is available to anyone interested.
Which Wallets Are Available On Uniswap?
Uniswap supports many crypto wallets, including MetaMask, Fortmatic, and Coinbase Wallets. Crypto traders use different exchanges and wallets to set up a versatile portfolio.
How To Connect Your Wallet To Uniswap?
Connecting your wallet to Uniswap is straightforward. The steps you need to follow are: 
– Access app.uniswap.org; 
– Click Connect To A Wallet; 
– Choose your preferred wallet; 
– Sign in to your wallet; 
– Agree to the Terms and Conditions; 
– Start using the Uniswap exchange.
Related:
Crypto.com Review
Binance US Review
Kraken Review
Coinbase UAE Review
BitOasis Review
Cex.io Review
Bittrex Review
Bitfinex Review
BitPanda Review
Bitstamp Review
Gemini Review
Coinmama Review
HitBTC Review
Kucoin Review
Huobi Review
Uniswap Review
Gold Age Review
Liberty Reserve Review
CoinSpot Review
Coinjar Review
Coinfloor Review
CoinCorner Review
FTX Review
Bitso Review
BitMex Review
BitFlyer Review
BitClout Review
Bittylicious Review
Poloniex Review
Shapeshift Review
Coin Nerds Review
CoinSwitch Review
Cryptopia Review
Changelly Review
CoinMena Review
Luno Review
Mercatox Review
Okex Review
Paxful Review
VirWox Review