Kucoin is a popular exchange for users who want to buy and sell different cryptocurrencies. It is an affordable exchange with low trading fees. It supports many digital coins, including Bitcoin, Bitcoin Cash, Ethereum, and Stellar. Our Kucoin review reveals it is a good exchange for experienced traders.
Review Summary: 
The Kucoin exchange offers a versatile portfolio with access to many digital coins.
It has low fees and a simple buy/sell transaction process.
It offers good Kucoin trading volumes and liquidity levels.
Kucoin Overview:
Kucoin is a popular exchange platform. It lists hundreds of cryptocurrency pairs. It has both popular coins and lesser-known ones like ERC-20 tokens. Trading pair availability is an advantage of Kucoin.
The Kucoin platform has its own cryptocurrency token. Kucoin Shares offer many benefits to traders, including a small share of the platform's profits. But Kucoin does not support fiat currency. This lack of fiat currency support is challenging for new crypto traders. Our in-depth reviews discuss the importance of fiat currency availability.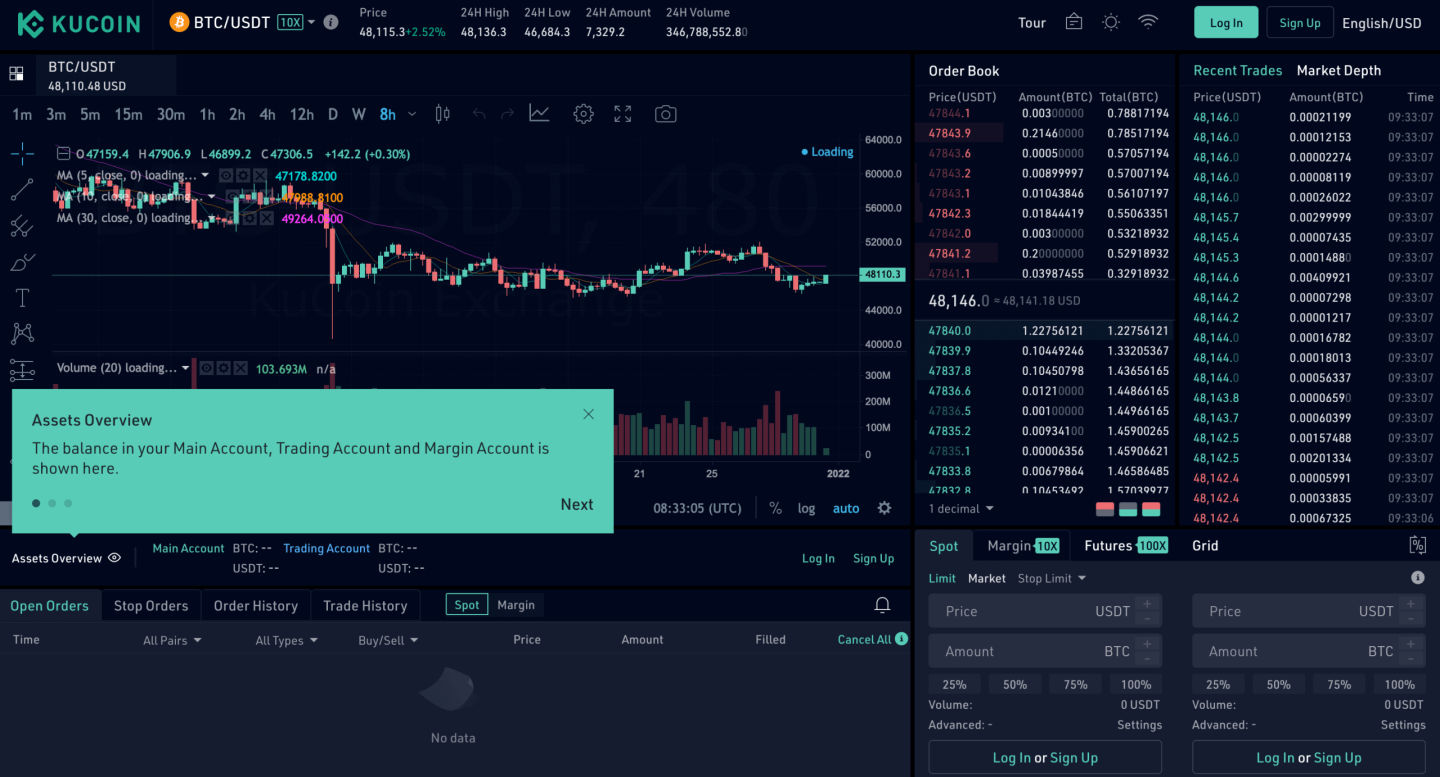 The Kucoin exchange is available in 200 nation-states. The downside is that it doesn't accept traders from the U.S. Kucoin is available in some of the following countries:
Afghanistan
Bahrain
The Central African Republic
Iran Iraq
Jordan
United Arab Emirates
United Kingdom
Ukraine
Zambia
Trading Experience
Kucoin is a third-party crypto exchange. It stands between buyers and sellers to speed up transactions. It differs from providers like Coinbase because you don't buy the coins from Kucoin. The system matches users with other traders. Kucoin gets a profit from trading fees.
It offers a reliable platform with access to many currencies. Users use Kucoin's platform for day trading then buy and withdraw coins with private Bitcoin wallets. Our Kucoin review shows it is a top choice for experienced traders.
Cryptocurrencies Available 
The main advantage of Kucoin is the easy access to an extensive list of digital coins. It offers popular crypto assets, including Bitcoin. Some of the coins available for Kucoin users include:
Bitcoin (BTC) 
Ethereum (ETH) 
Litecoin (LTC) 
Bitcoin Cash (BCH) 
Ethereum Classic (ETC) 
ZCash (ZEC) 
Stellar Lumens (XLM) 
Ripple (XRP)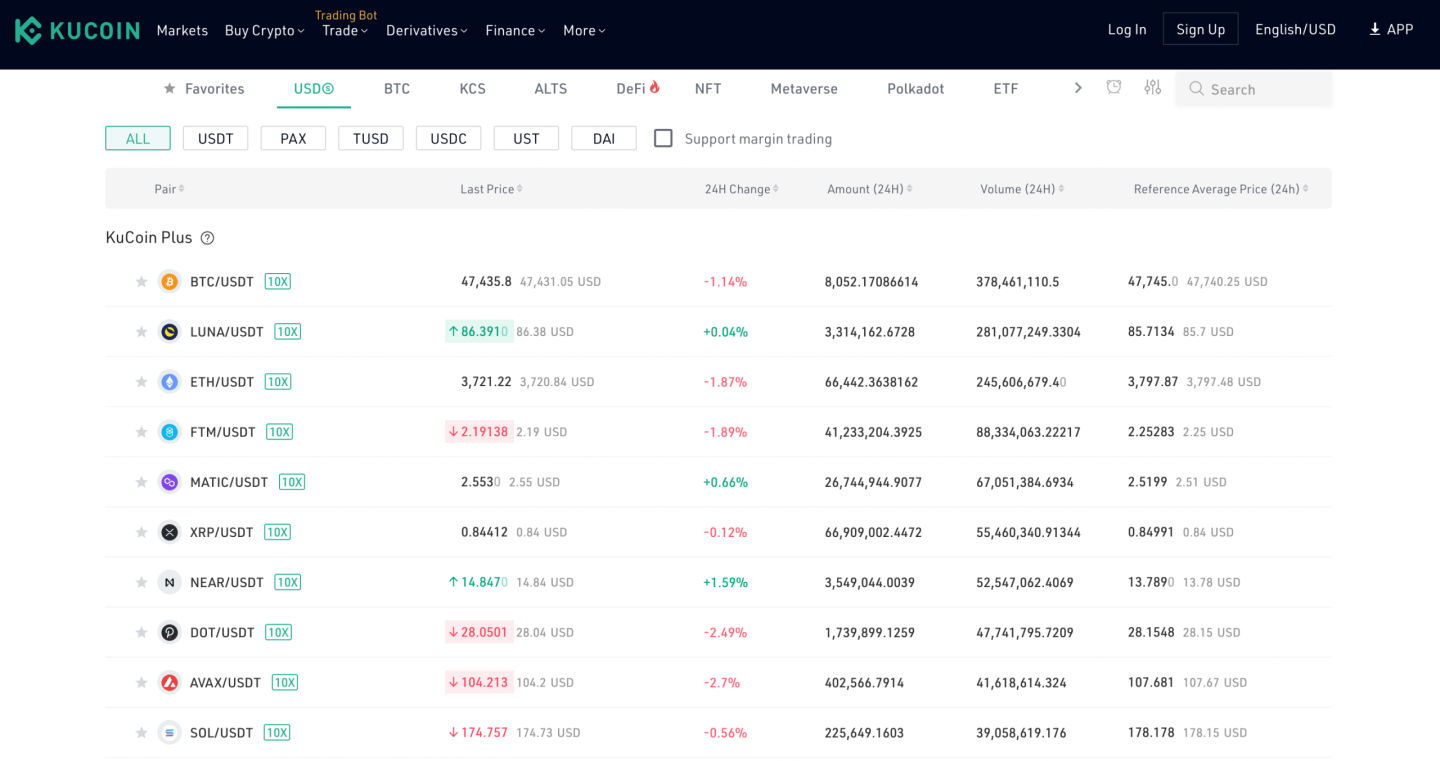 Kucoin supports less-popular coins like:
MetaHash
Loki
MultiVac
Monero
sUSD
XYO
Zeepin
Zilliqa
Fees 
Kucoin offers only one method to withdraw or deposit funds. Users fund their accounts with cryptocurrency transactions. Kucoin doesn't provide credit/debit card, bank account, or e-wallet funding solutions.
The fee structure at Kucoin is simple. It charges a maker/taker fee of 0.1% on all transactions. Kucoin is an affordable cryptocurrency exchange. It offers incentives if you hold Kucoin Shares tokens. Kucoin offers significant trading fee discounts. Read our in-depth reviews to learn more about exchanges, funding options, and fees.
Regulation & Reputation 
Kucoin does not have a license from a regulatory body. The platform uses many security features to keep accounts safe, including:
Two-factor authentication
Separate Kucoin trading password
Email confirmation on log in
Internal risk control team
Encrypted client data
Account Opening 
Opening a trading account at Kucoin is a straightforward process. The steps you need to follow are:
Access Kucoin's homepage and click on Sign Up.
Submit your name, email address, and password.
Confirm your email address.
Submit and confirm your phone number.
Fund your Kucoin account.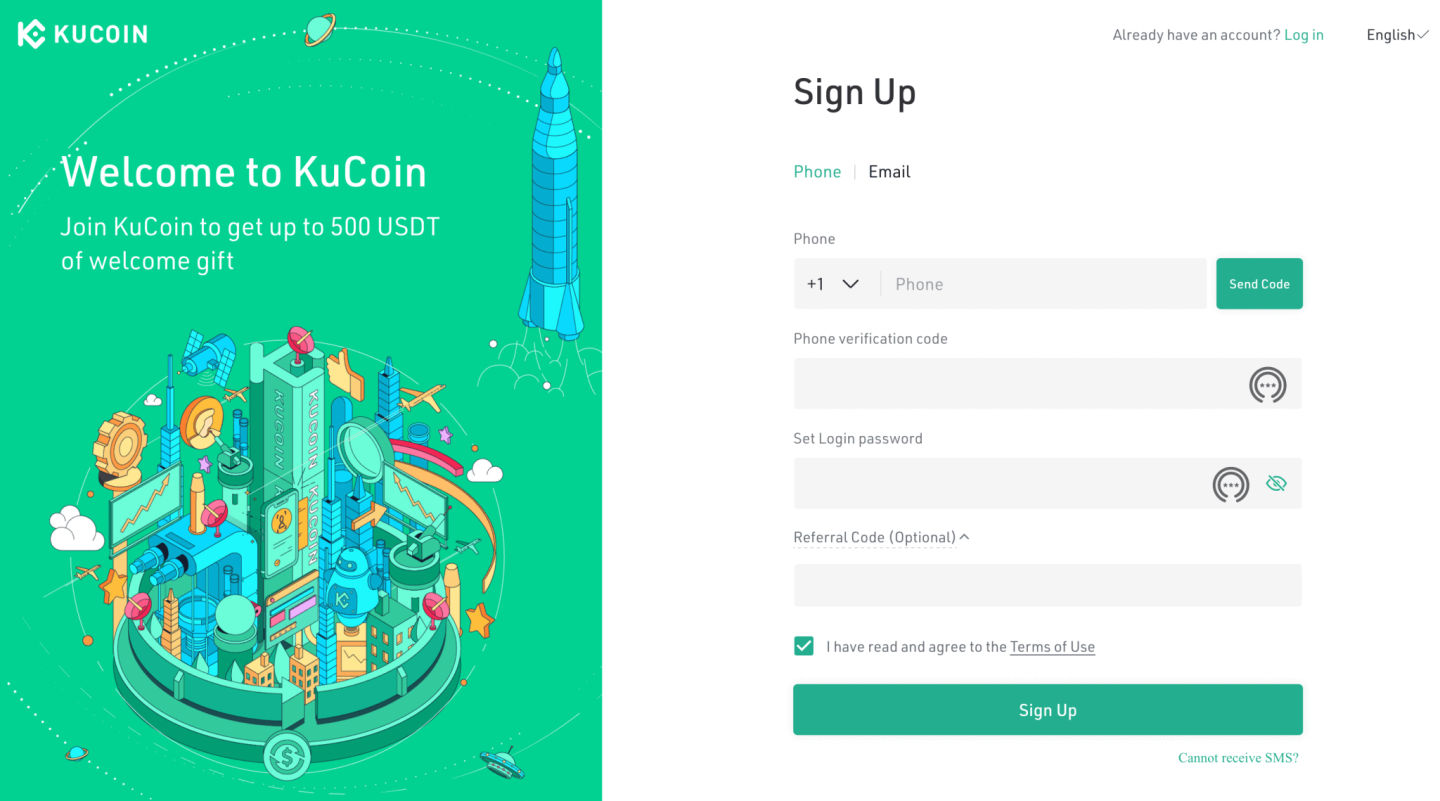 Customer Support 
Customer support is an essential aspect of our reviews. Kucoin has an average customer service team available 24/7. It offers live chat, email support, and a valuable help center. Kucoin reviews show it does not provide phone support.
Kucoin Vs. Other Cryptocurrency Companies
Kucoin is a popular exchange with traders looking forward to low crypto trading fees. It has major competitors like Coinbase. Experienced crypto traders use many crypto exchanges and digital wallets to access different coins.
Coinbase
Coinbase is the main competitor of Kucoin. Both offer great services, but there are some key differences to consider:
Coinbase is a trustworthy cryptocurrency exchange licensed by the FCA and CySEC. Kucoin does not have a license.
Coinbase offers 76 digital coins, while Kucoin provides access to 507 digital assets.
Coinbase offers staking rewards at different interest rates.
Both platforms have strengths and weaknesses. Coinbase has a competitive fee structure, but Kucoin has lower trading fees. Read our in-depth reviews to learn more about the services available at Coinbase.
Summary 
Kucoin is a popular simple crypto exchange for trading digital assets at low fees. It has a straightforward interface and valuable security features. Kucoin offers excellent services for traders at all levels of experience. We do not recommend Kucoin to new traders, as it has limited learning tools.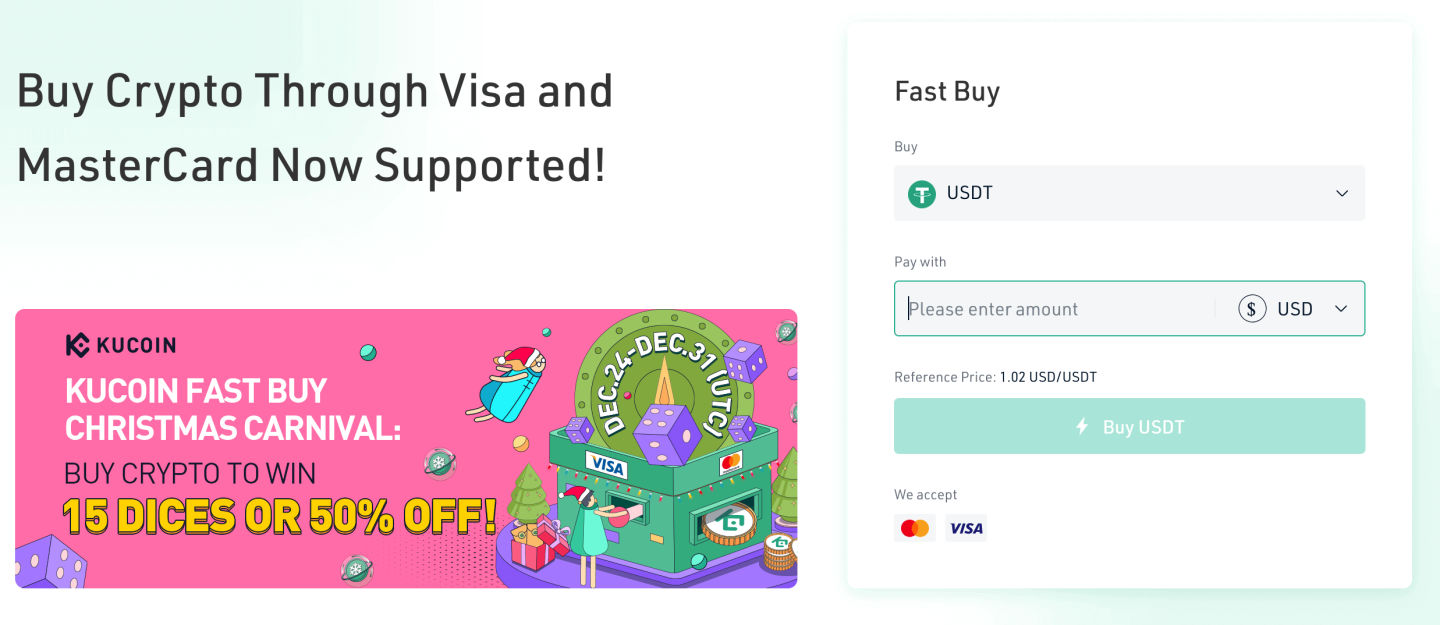 FAQ
Is Kucoin Safe And Legit?
Trading digital assets is risky. Cryptocurrencies remain speculative assets. Kucoin does not have a license, but it uses standard security measures. That means if Kucoin gets hacked, you risk losing all your funds. Our Kucoin review shows it offers reliable safety measures. Read our in-depth reviews to learn more about safety, cryptocurrency exchanges, and bank level asset security.
Does Kucoin Offer Debit/Credit Card Funding?
No. Kucoin doesn't accept credit/debit card transactions. It lets users invest in digital coins with cryptocurrency.
How Many Coins Does Kucoin Offer?
Kucoin has 507 different digital coins on its platform. It offers access to many trading pairs. Check our in-depth reviews for more details on trading pairs, digital coins, and exchanges.
How Much Are Kucoin Fees?
Kucoin has a standard trading fee of 0.1% per trade. Kucoin Account-holders who hold Kucoin Shares reduce these fees. Our Kucoin review discusses the fee structure available with this exchange. Kucoin trading fees are average. Read our in-depth reviews to learn more about other crypto exchanges, incentives, and Kucoin Shares KCS.
Which Is The Main Competitor Of Kucoin?
The main competitor of Kucoin is Coinbase. Coinbase offers an excellent mobile app and asset portfolio. Check our in-depth reviews to learn more about the services available at Coinbase.
Does Kucoin Offer An App?
Kucoin has a mobile app available on iOS and Android. The Kucoin app offers all the features available on its web platform. Kucoin's app is available free of charge.
Which Are The Main Disadvantages Of Kucoin?
Kucoin is a popular exchange with low fees. But our Kucoin review reveals it has weaknesses, including: – It does not have a license from a trustworthy regulatory body. – It doesn't offer an offline wallet. – It doesn't support fiat currencies deposits. Fiat currencies are useful to traders at all levels. – It has long waiting times for live chat support.
---
Related:
Crypto.com Review
Binance US Review
Kraken Review
Coinbase UAE Review
BitOasis Review
Cex.io Review
Bittrex Review
Bitfinex Review
BitPanda Review
Bitstamp Review
Gemini Review
Coinmama Review
HitBTC Review
Kucoin Review
Huobi Review
Uniswap Review
Gold Age Review
Liberty Reserve Review
CoinSpot Review
Coinjar Review
Coinfloor Review
CoinCorner Review
FTX Review
Bitso Review
BitMex Review
BitFlyer Review
BitClout Review
Bittylicious Review
Poloniex Review
Shapeshift Review
Coin Nerds Review
CoinSwitch Review
Cryptopia Review
Changelly Review
CoinMena Review
Luno Review
Mercatox Review
Okex Review
Paxful Review
VirWox Review