Bitstamp is a reputable cryptocurrency exchange with an average trading volume of $40 million per day. It is popular with traders who buy cryptocurrencies with fiat currencies like USD. Bitstamp is a good fit for experienced and active traders.
Review Summary: 
Bitstamp is a reliable cryptocurrency exchange available to all countries.
It has an excellent selection of charting tools.
It offers 24/7 phone support.
It accepts transfers from bank accounts and debit/credit card transactions.
Bitstamp Overview:
Bitstamp is a cryptocurrency exchange with its main headquarters in Luxemburg. It offers its services globally. Bitstamp is a top choice for buying and selling different digital assets. It is the best exchange for Bitcoin trading with impressive safety measures.
This global cryptocurrency exchange welcomes users from all countries. But this only applies to funds deposited from a cryptocurrency. If you want to use debit/credit card deposits, you should know that the Bitstamp exchange is available to specific countries.
Trading Experience
Bitstamp has a user-friendly interface for its mobile app. Keep in mind that buying crypto at Bitstamp means you buy it from another person. Bitstamp only oversees the transaction. The Bitstamp app is versatile and secure.
The main dashboard is easy to navigate. The trading area might be too complex for new traders. The FAQ section is a valuable learning tool. Traders have the option to use an "Instant Order." These Instant Orders let you skip the advanced trading area. We recommend Bitstamp for experienced and active traders.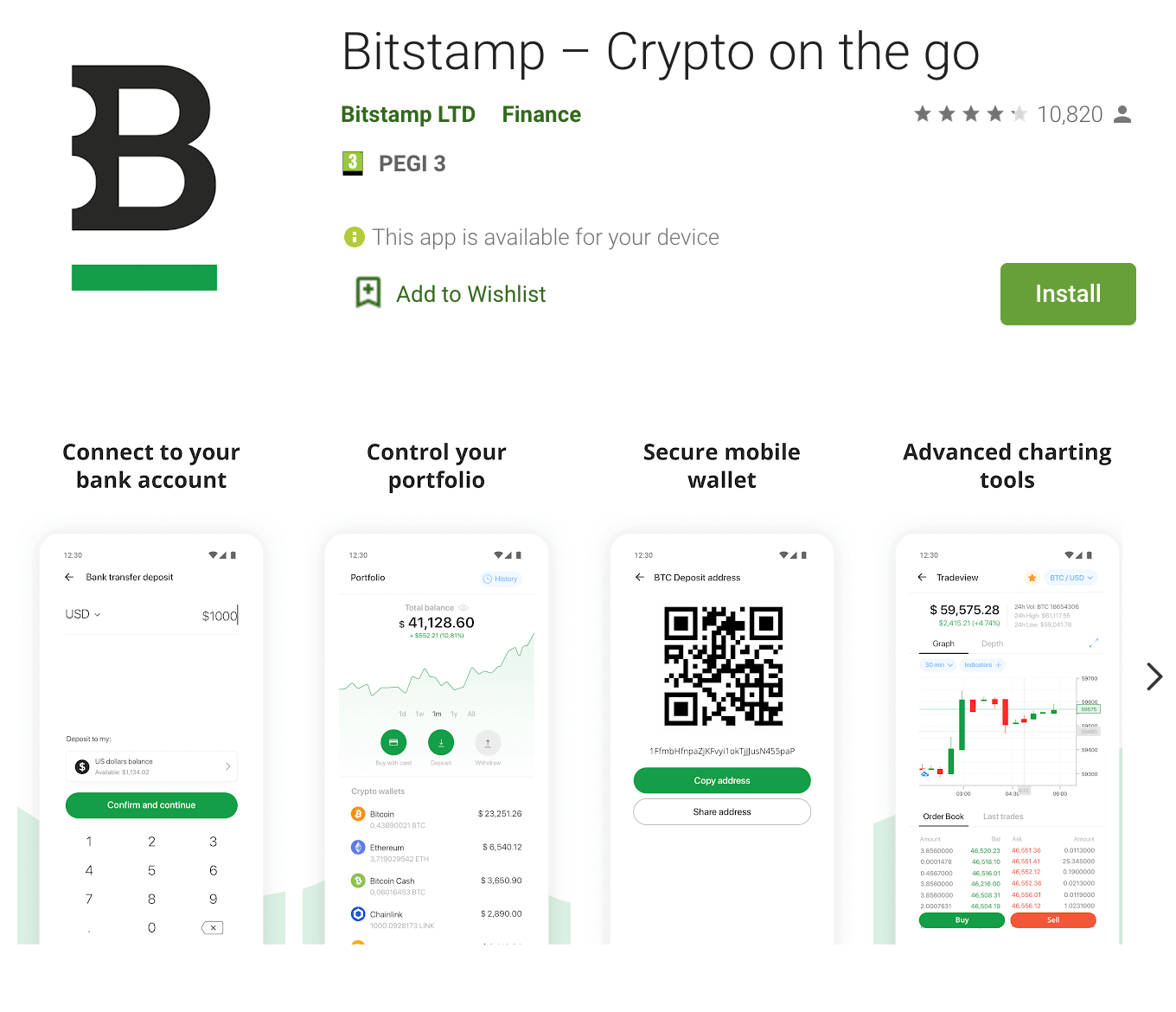 Cryptocurrencies Available 
Bitstamp offers popular digital assets, including:
Bitcoin
XRP (Ripple)
Litecoin
Ethereum
ALGO
Bitcoin Cash
XLM
Link
OMG Network
USD Coin
PAX
Bitstamp has 14 trading pairs:
BTC/USD
XRP/USD
ETH/USD
BCH/USD
LTC/USD
BTC/EUR
BCH/EUR
XRP/EUR
LTC/EUR
BCH/BTC
ETH/EUR
XRP/BTC
LTC/BTC
ETH/BTC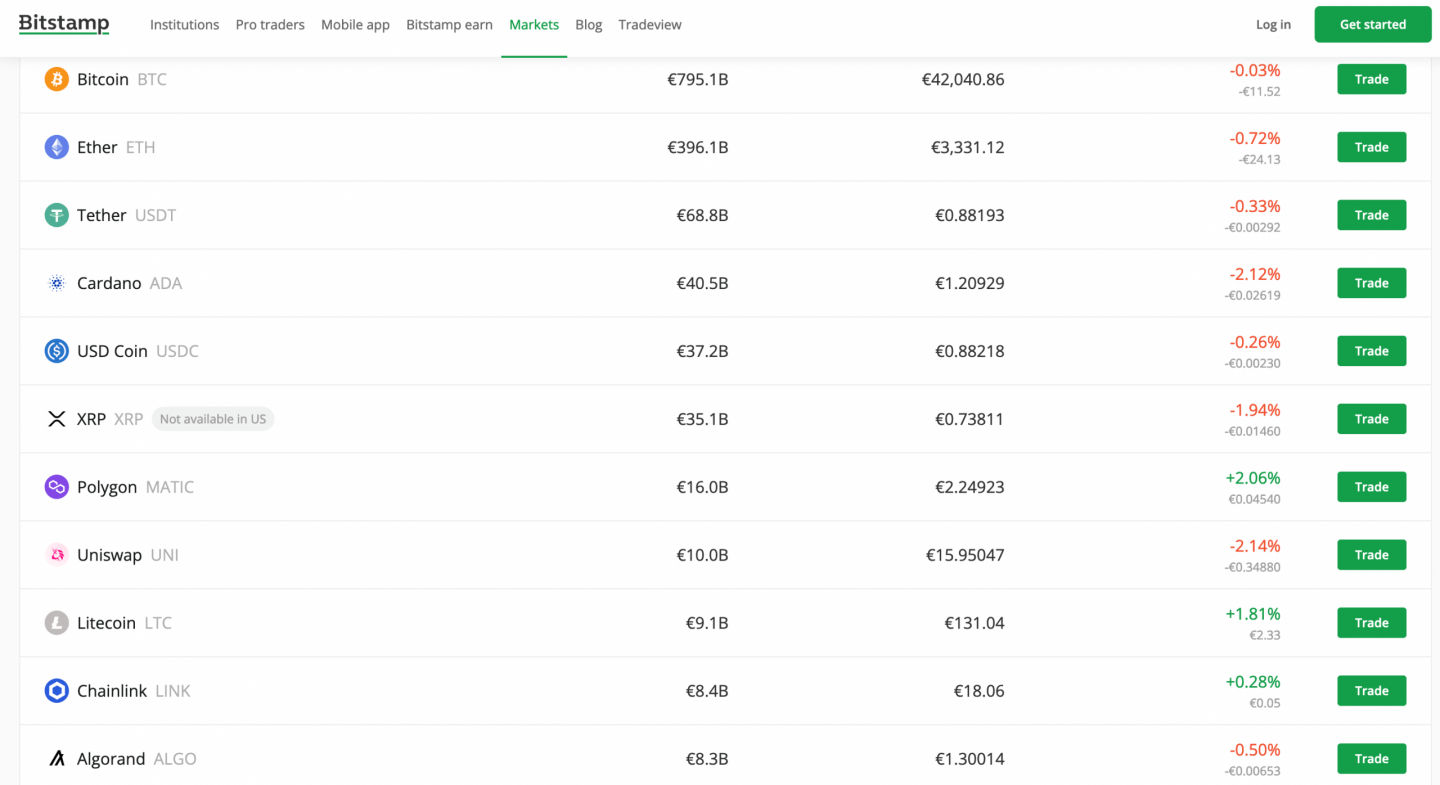 Fees
Bitstamp has a transparent fee structure and average trading fees. It has a standard trading fee of 0.25% for all trades. Professional and active traders who trade more than $20 million in a month get a 0.10% fee.
The deposit fees at Bitstamp are:
Debit cards: Fixed fee of $10. For deposits of more than $10,000, you pay 2%.
Credit cards: 5% of the deposit amount (plus any fees that your credit card provider charges)
SEPA (European Bank Account Transfer): Free
Bank account transfers: 0.05% transaction charge (minimum/maximum €7.50/€300)
Cryptocurrency: Free
Withdrawal fees at Bitstamp are average. It has no fee for credit or debit card withdrawals. A bank transfer has a 0.09% transaction fee. European bank transfers have a €0.90 fee.
Regulation & Reputation
Bitstamp has an outstanding reputation. It has a payment institution license from the Commission de Surveillance duSecteurFinancier (CSSF) in Luxembourg.
Bitstamp offers industry-leading security measures, including:
Two-factor authentication
Google Authenticator
Email Confirmations
Cold storage
Account Opening
Account opening at Bitstamp is a simple process. The steps you need to follow are:
Download and install Bitstamp on your smart device.
Click on Sign Up.
Submit your name, email address, and password.
Confirm your email address.
Activate Google Authenticator.
Submit and confirm your phone number.
Fund your Bitstamp account.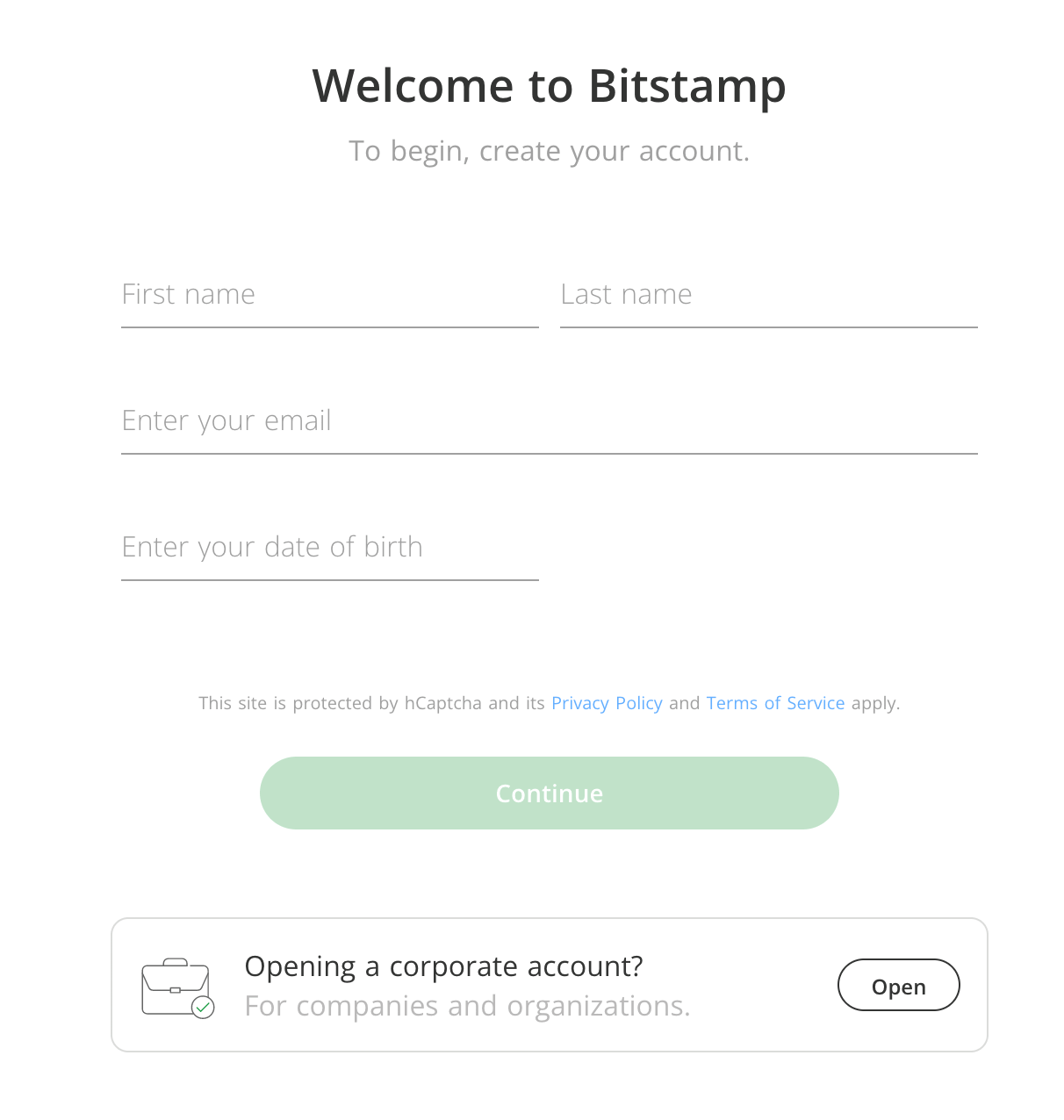 Customer Support
Customer service is acrucialelement we review. Bitstamp hashelpfulcustomer support. It offers phone support available 24/7 a day, seven days a week. Bitstamp has email support with fast responses. But it doesn't offer live chat.
Bitstamp Vs. Other Cryptocurrency Companies
Bitstamp is a trustworthy cryptocurrency exchange. It has major competitors like Binance. Professional crypto traders use many exchanges and digital wallets to access different coins.
Binance
Binance is a leading cryptocurrency exchange with secure platforms. It has a competitive fee structure for active traders. Binance has limited learning tools. It is a top competitor of Bitstamp. Both crypto exchanges are reliable but differ in some keyaspects:
Binance has average customer support reviews. Bitstamp has excellent testimonials.
Binance offers excellent services for institutions and high-net-worth clients.
Binance has low trading fees, while Bitstamp fees are average.
Binance is a popular Bitcoin exchange. It has a secure platform to trade many digital assets. Read our in-depth reviews to learn more about the services available at Binance.
Summary
Bitstamp is a trustworthy cryptocurrency exchange. It has a powerful mobile app and impressive security features. Bitstamp offers premium services for traders around the world. We recommend it for experienced and active traders.
FAQ
Is Bitstamp Safe And Legit?
Bitstamp is a safe cryptocurrency exchange. It has an institutional payment license and uses top safety measures. Keep in mind that trading cryptocurrency is risky. Digital coins remain speculative assets. Check our in-depth reviews for more information on safety and cryptocurrency exchanges.
Which Is The Main Competitor Of Bitstamp?
Binance is the main competitor of Bitstamp. It is a secure exchange with a versatile portfolio. Binance has low trading fees and premium services for high-net-worth clients. Read our in-depth reviews for more information on the services available at Bitstamp.
Does Bitstamp Offer A Native Wallet?
Bitstamp doesn't offer a native wallet. Bitstamp account holders have to store funds in the platform's online wallet. Check our in-depth reviews to learn more about digital assets and wallets.
Is Bitstamp Beginner-Friendly?
No. The Bitstamp platform has a simple interface. The trading area is complex and requires crypto trading knowledge. Bitstamp offers many learning tools to help new traders.
Related:
Crypto.com Review
Binance US Review
Kraken Review
Coinbase UAE Review
BitOasis Review
Cex.io Review
Bittrex Review
Bitfinex Review
BitPanda Review
Bitstamp Review
Gemini Review
Coinmama Review
HitBTC Review
Kucoin Review
Huobi Review
Uniswap Review
Gold Age Review
Liberty Reserve Review
CoinSpot Review
Coinjar Review
Coinfloor Review
CoinCorner Review
FTX Review
Bitso Review
BitMex Review
BitFlyer Review
BitClout Review
Bittylicious Review
Poloniex Review
Shapeshift Review
Coin Nerds Review
CoinSwitch Review
Cryptopia Review
Changelly Review
CoinMena Review
Luno Review
Mercatox Review
Okex Review
Paxful Review
VirWox Review