CoinSwitch Kuber is a centralized cryptocurrency exchange with a versatile portfolio. It offers 309 cryptocurrencies and 45,137 crypto pairs. The CoinSwitch exchange is unique as it lets users convert Bitcoin and altcoins. We recommend it to all traders who want access to a reliable trading platform. 
Review Summary: 
CoinSwitch offers an intuitive mobile platform for both beginners and advanced traders.
It has an impressive portfolio with access to popular coins like Bitcoin via the Coinswitch Kuber app.
It offers unlimited transaction limits with fast execution rates for Indian traders.

CoinSwitch Overview:
CoinSwitch Kuber has its headquarters in India. The CoinSwitch exchange allows Indian traders to convert coins into other coins according to the market rates. It is a trading app with access to competitive exchange rates from popular exchanges. CoinSwitch allows traders from the following countries:
Australia
Austria
Belgium
Bulgaria
Croatia
Cyprus
Czech Republic
Denmark
Finland
Greece
Hungary
India
Ireland
Italy
Latvia
Liechtenstein
Malta
Monaco
Netherlands
Norway
Poland
Portugal
San Marino
Singapore
Slovakia
Slovenia
Spain
Sweden
Switzerland
United Kingdom
United States
Trading Experience
Most cryptocurrency exchanges allow users to buy and sell coins. The CoinSwitch exchange is different and offers 309 coins for traders to trade for other crypto coins. The CoinSwitch application is intuitive and has a user-friendly design. Traders at all levels use it to invest in Bitcoin and other popular digital assets.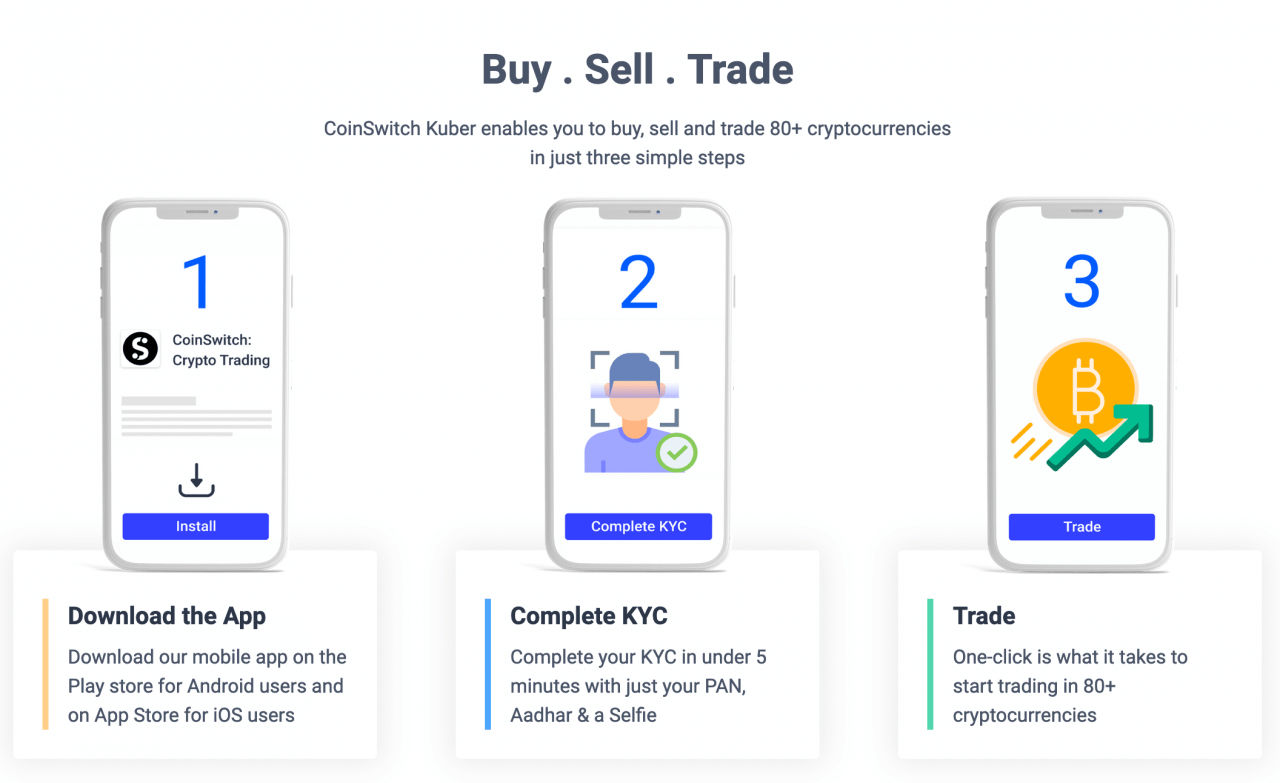 Cryptocurrencies Available 
CoinSwitch is a popular exchange in India because of its impressive portfolio. Traders receive access to many options when it comes to trading digital currencies. Our CoinSwitch review shows it offers access to 309 cryptos, including:
· Bitcoin (BTC)
· Bitcoin Cash (BCH)
· Cardano (ADA)
· Dash (DASH)
· Ethereum (ETH)
· Ethereum Classic (ETC)
· Litecoin (LTC)
· Monero (XMR)
· NEO (NEO)
· Ripple (XRP)
· VeChain (VET)
· Verge (XVG)
Fees 
CoinSwitch Kuber has a complex fee structure. Traders should read its fee policy carefully, as there are some hidden fees. The standard CoinSwitch fees range from 0% to 0.98%, depending on the exchange the user chooses. Some of the common fees charged by the CoinSwitch platform include:
A 0% fee for trading with Changelly, ShapeShift, Changer, Evercoin, and BlockTrades.
A fee varies from 0.49% to 0.98% for trading with Bittrex, Cryptopia, and similar exchanges.
CoinSwitch doesn't charge a minimum deposit fee. This crypto exchange offers limited payment methods. The CoinSwitch exchange doesn't accept fiat currency from PayPal or a bank transfer. CoinSwitch Kuber account holders buy crypto coins on the website with a credit card.
Regulation & Reputation 
CoinSwitch doesn't have a top-tier license from a regulatory body. It has a good track record, and it didn't experience any major hacks. But we recommend you weigh the risks before trading with an unregulated exchange. Read our in-depth reviews for more information on crypto exchanges and safety.
Account Opening 
Traders open a CoinSwitch account on their website or the CoinSwitch Kuber app. The steps you have to take are:
Access the CoinSwitch platform or the CoinSwitch Kuber app.
Click on create an account and complete the verification process.
Fund your account and start trading Bitcoin or other digital assets.
Customer Support 
CoinSwitch customer support is average. This exchange offers only email support. The average response time for Coinswitch's support team is 12 hours. The CoinSwitch website has a valuable learning center with access to common FAQs.
Summary 
CoinSwitch is a centralized crypto exchange to buy and sell digital coins. It is a top choice for traders at all levels who want access to a comprehensive crypto portfolio. Our CoinSwitch review shows it is a reliable exchange for all crypto traders. But it doesn't have a top-tier license. Read our in-depth reviews to learn more about crypto trading and safety.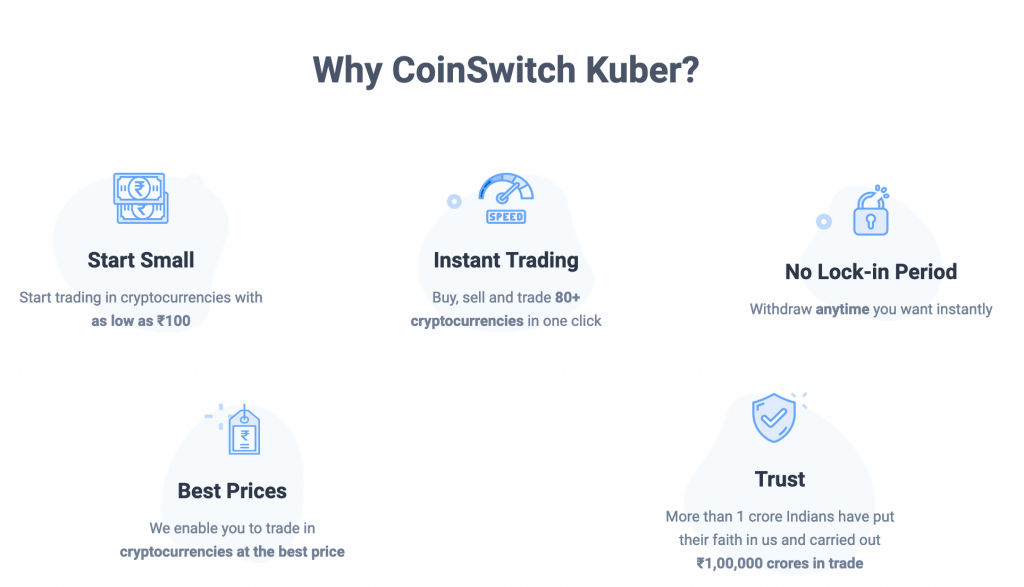 FAQ
What Is A Centralized Cryptocurrency Exchange?
A centralized crypto exchange represents a private company offering access to crypto trading platforms. These exchanges request registration and identification, known as the Know Your Client rule. Popular centralized exchanges are Coinbase, Binance, and Kraken. These provide secure cryptocurrency trading platforms and accounts.
What Is A Decentralized Cryptocurrency Exchange?
A decentralized exchange doesn't have a central point of control. It is like a server, and it has each device within the server located in different countries. If one computer shuts down, it doesn't interfere with the network's activity. The disadvantage is that decentralized exchanges don't follow the rules of any regulatory body. If you opt for this type of exchange, you should read about the risks associated with it. Our in-depth reviews offer information on crypto exchanges and safety.
Should I Buy Bitcoin With CoinSwitch Kuber?
Bitcoin is a popular digital coin with traders at all levels. Before investing in online assets, you should learn more about crypto trading. Check our in-depth reviews for more insights on popular digital coins and trading strategies.
Does CoinSwitch Let You Trade Anonymously?
Yes. The CoinSwitch platform offers one of the best anonymity features. The CoinSwitch platform doesn't force traders to create an account but recommends account creation.
Does CoinSwitch Kuber Let You Buy Digital Coins With A Credit Card?
Yes. CoinSwitch offers a feature to buy crypto coins with a credit card. CoinSwitch users receive access to 106 coins to buy with a credit card. It supports USD, RUB, JPY, and EUR.
Which Is The Best Cryptocurrency To Trade In India?
Cryptocurrencies are versatile assets. These coins have varying fees and values. We recommend you trade the minimum deposit amount to test the exchange. The top choice for Indian traders is Bitcoin trading.
How Can Traders Buy Other Coins Than Bitcoin In India?
CoinSwitch Kuber is a versatile mobile trading app. It offers 106 digital coins, including Bitcoin, Ethereum, and Litecoin. Keep in mind that digital coins are speculative assets. You should learn more about online trading before investing your funds in crypto.
Related:
Crypto.com Review
Binance US Review
Kraken Review
Coinbase UAE Review
BitOasis Review
Cex.io Review
Bittrex Review
Bitfinex Review
BitPanda Review
Bitstamp Review
Gemini Review
Coinmama Review
HitBTC Review
Kucoin Review
Huobi Review
Uniswap Review
Gold Age Review
Liberty Reserve Review
CoinSpot Review
Coinjar Review
Coinfloor Review
CoinCorner Review
FTX Review
Bitso Review
BitMex Review
BitFlyer Review
BitClout Review
Bittylicious Review
Poloniex Review
Shapeshift Review
Coin Nerds Review
CoinSwitch Review
Cryptopia Review
Changelly Review
CoinMena Review
Luno Review
Mercatox Review
Okex Review
Paxful Review
VirWox Review