BitClout is an innovative platform with a robust decentralized protocol. It uses its own custom blockchain and cryptocurrency to speculate on social media activity. It is a top choice for traders who want to buy and sell NFTs of celebrities.   
Review Summary:
BitClout is an interesting crypto social network supported by the reputation of online celebrities.
BitClout account holders buy and sell creator coins on the Bitclout blockchain.
BitClout is a decentralized provider with no company data revealed on its official website.
Trading Experience
BitClout is a decentralized platform to trade coins representing public figures. The core concept is that the success of a coin depends on popularity fluctuations. Users buy/sell NFTs using the Bitclout native cryptocurrency. BitClout tokens are excellent for buying different assets. Users buy BitClout with Bitcoin. The transaction on the BitClout platform takes a couple of minutes.
It is worth mentioning that the BitClout price doubles each time a million BitClout are sold. The cost of each coin goes up when users buy it. Then, it goes down when users sell it. Keep in mind that NFT investments are risky. The strategy is volatile, and you'll have to research when it's possible for a creator coin to become popular. For example, if a celebrity dies in a tragic accident or releases a successful movie, the value of that coin may rise.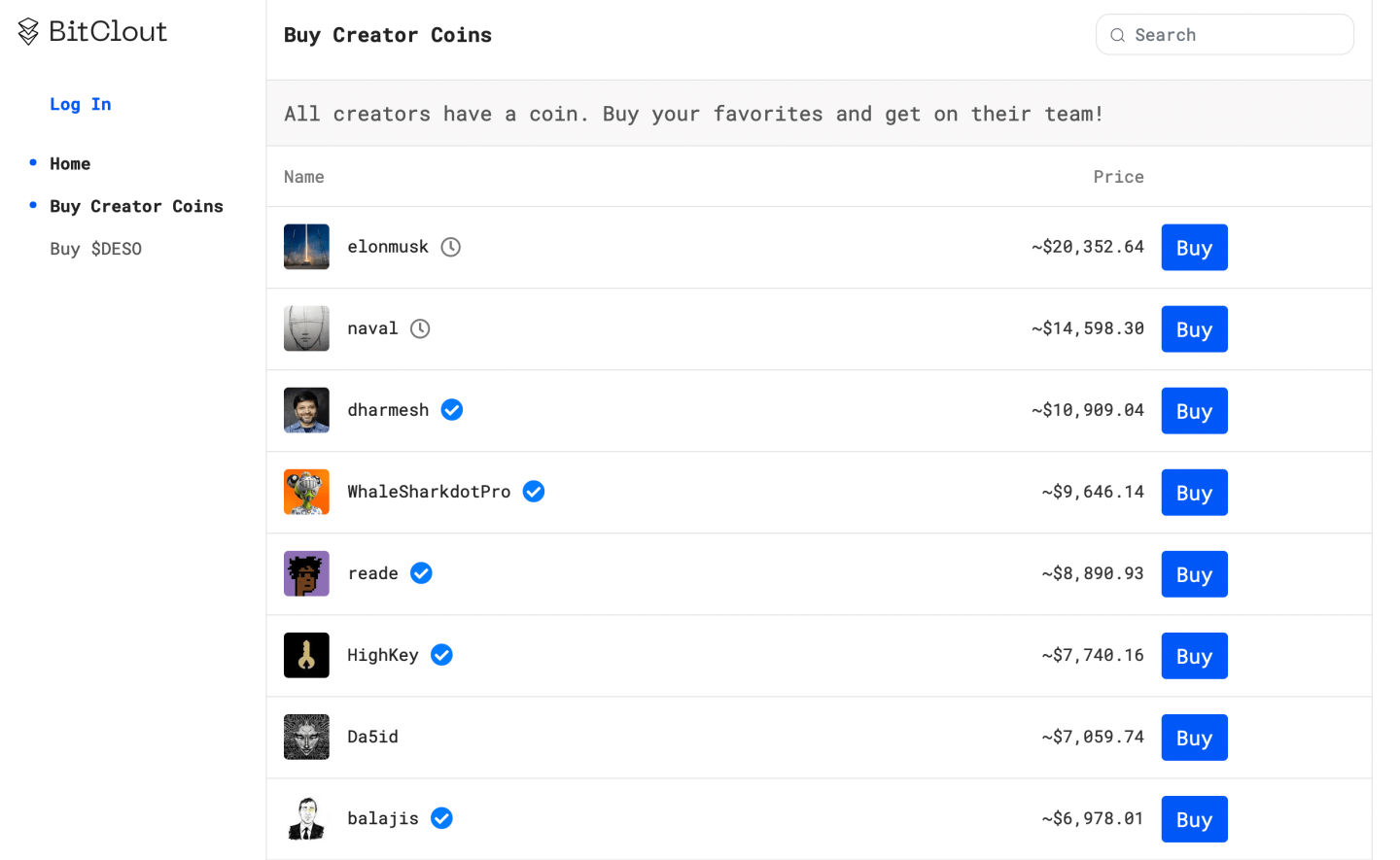 Regulation & Reputation
BitClout is a decentralized platform with access to creator coins. It has no central server and no central authority controlling it. It uses a decentralized network of nodes. BitClout's main website encourages users to use the latest safety measures with their transactions. Investing in digital assets is risky. Read our in-depth reviews to learn more about decentralized exchanges and tokens.
Summary
BitClout is an interesting decentralized platform. It has the power to generate impressive profits for all users. BitClout users might create their own coin. We recommend you learn more about online trading and exchanges before investing in digital assets or on an open platform.
FAQ
What Is A Centralized Cryptocurrency Exchange?
A centralized crypto exchange represents a private company with blockchain-based software. It offers access to trustworthy platforms to invest in digital assets. These exchanges require registration, known as the Know Your Client rule.
What Is A Decentralized Cryptocurrency Exchange?
A decentralized exchange does not have a central point of control. It functions as a server, and it has each computer within the server spread out in different countries. If one device stops working, it doesn't affect the network's activity. Decentralized exchanges don't follow the rules of any regulatory body. Read our in-depth reviews to learn more about the risks.
What Is A Creator Coin?
Creator coins or tokens are blockchain assets users keep in their wallets. These coins have a close connection to the value of oil, gold, or the social clout of an individual. The social network is linked to a creator's coin success. Many famous people create their own creator coin and advertise it on a social network. The coin price varies depending on the social clout of an individual.
Are Creator Coins Safe?
Creator coins exist on a blockchain and are very secure. These are insightful and dynamic thinking. The only point of security risk is your wallet. If someone manages to access your wallet, they can steal your coins. It is best to consider cold storage solutions for your digital assets and account keys. Check our in-depth reviews for more information about cold storage.
Related:
Crypto.com Review
Binance US Review
Kraken Review
Coinbase UAE Review
BitOasis Review
Cex.io Review
Bittrex Review
Bitfinex Review
BitPanda Review
Bitstamp Review
Gemini Review
Coinmama Review
HitBTC Review
Kucoin Review
Huobi Review
Uniswap Review
Gold Age Review
Liberty Reserve Review
CoinSpot Review
Coinjar Review
Coinfloor Review
CoinCorner Review
FTX Review
Bitso Review
BitMex Review
BitFlyer Review
BitClout Review
Bittylicious Review
Poloniex Review
Shapeshift Review
Coin Nerds Review
CoinSwitch Review
Cryptopia Review
Changelly Review
CoinMena Review
Luno Review
Mercatox Review
Okex Review
Paxful Review
VirWox Review